Himes Urges Voters to Make their Voices Heard
By Jean Falbo-Sosnovich
October 20, 2020

12:00 pm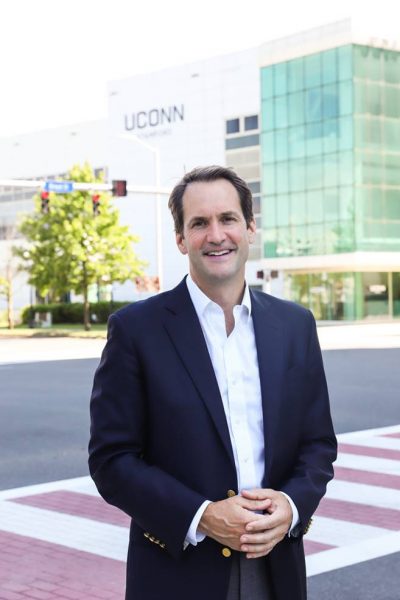 Congressman Jim Himes has one main message to voters this year.
"If you don't vote, you're shouting out into the void," Himes said. "If you want government to reflect your voice and how you feel, then you have to vote."
The 2020 election is arguably one of the most important ever in U.S. history. Our nation remains divided, and Himes is working 24/7 to change that. He is supporting moderate, Democratic voices to see a sense of unity achieved. In addition to Joe Biden and Kamala Harris, the Congressman has endorsed Senator Will Haskell for re-election to the Connecticut Senate and newcomer Stephanie Thomas to the Connecticut House.
"Will and Stephanie bring the sort of moderate balance Fairfield County needs," said Himes. "They start with Democratic social values and insist on fiscal responsibility, along with local say on local matters."
Himes encourages people to have a plan and vote in whatever way they feel comfortable.
"It's important now more than ever to have your voice heard," the Congressman stressed. "This President is very polarizing, and this country is facing some big issues. More than ever we need people to come out and cast their ballot. We need people to show up and make it known that they have a moral compass and they will not stand for the status quo".
Connecticut has significantly expanded access to absentee balloting this year, making voting by mail or in person easy options.
"It's a lot simpler to vote in person…the polls are open, go to the polls, wear a mask," Himes said. "If you're not comfortable with voting in person, vote by mail, it's totally secure, it's not fraudulent and it's a great option. Whatever you do, make sure your voice is heard."
Himes, 54, is seeking re-election to the seat he first won in 2008 when he unseated longtime Republican Christopher Shays.
Shays, himself, despite having served as a Republican Congressman for 21 years, has endorsed Joe Biden, too, writing recently that Donald Trump "is not fit to be our President."
Passage of the Affordable Care Act remains a highlight of Himes' political career.
"From time to time you have an opportunity to make people's lives better," Himes said. "There are 160,000 people who were previously uninsured in Connecticut that now have health insurance. Twenty million people in the U.S. now live safer, less anxious lives thanks to a vote I cast to help pass the Act."
Bringing federal dollars to Connecticut remains a priority, with Himes just securing more than $760,000 for improvements at the Waterbury-Oxford Airport, along with money to rebuild the Walk Bridge in Norwalk.
Looking ahead to a 7th term, Himes knows his priorities.
"Job #1 in the next term, of course, is to put an end to the COVID crisis," Himes said. "My office has been working 24/7and has been really aggressive in response to the crisis. We helped small businesses get the PPE, loans and insurance information they need. The economy was continuing the strong trends begun under President Obama. People were feeling good before COVID hit, and now everybody is in crisis mode. We'll need another relief package to help small businesses and people desperately in need of the help."
Himes was instrumental in passing the Dodd-Frank Wall Street Reform Act in 2010, which was designed to prevent a repeat of the 2008 recession. He'll work to strengthen the current economy, struggling to stay afloat amid the pandemic. Himes believes with the right policies, the economy will make a strong comeback.
An investment banker by training, who later moved to the nonprofit, affordable housing world, Himes serves on the House Financial Services Committee and the House Permanent Select Committee on Intelligence, where he is the ranking member of the NSA and Cybersecurity Subcommittee.
The father of two, and wife Mary, reside in Greenwich. Aside from politics, Himes enjoys making mead, maple syrup and backyard beekeeping. He is a Rhodes Scholar and graduate of both Harvard and Oxford.
Himes is up for re-election in the 4th district, running against Republican Jonathan Riddle. For more information visit https://himes.house.gov/
Paid for by Wilton Democratic Town Committee, Jane Rinard Treasurer
www.wiltondems.org | P.O. Box 103, Wilton, CT 06897
Approved by U.S. Rep. Jim Himes.