Haskell and Thomas Plan to Build a Better Connecticut
By Jean Falbo-Sosnovich
October 12, 2020

5:49 pm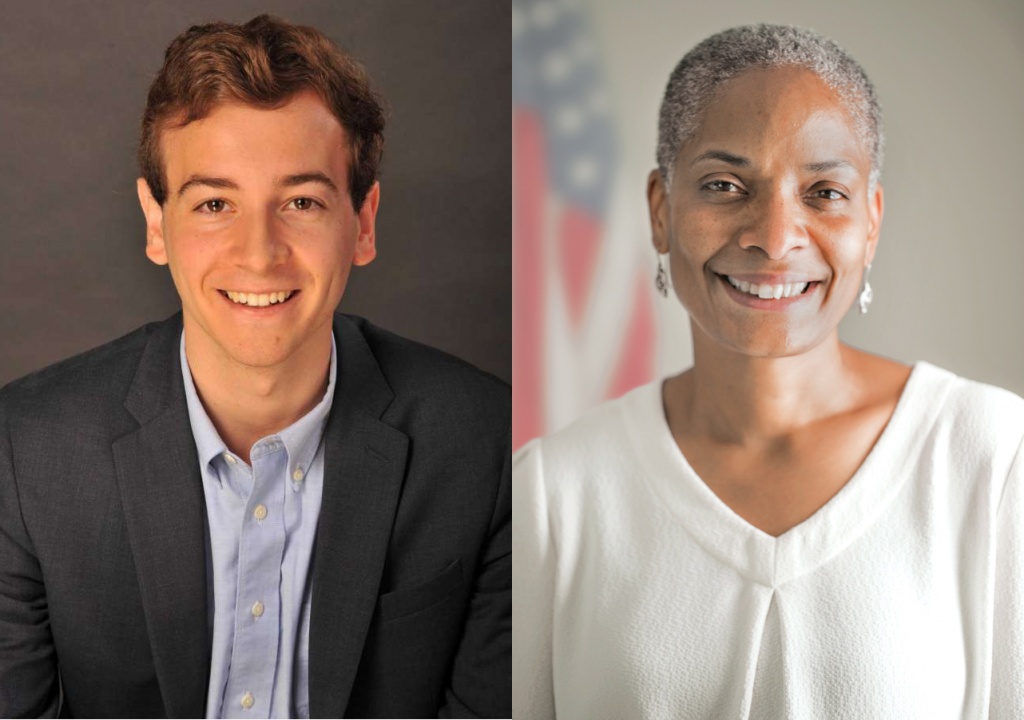 State Sen. Will Haskell and state Rep. candidate Stephanie Thomas want to build a better Connecticut for generations to come.
That's why the Democratic duo is asking voters to cast ballots in their favor on Nov. 3.
Haskell, 24, the youngest member of the Connecticut General Assembly, is seeking re-election to the 26th district seat he won in 2018, fresh out of Georgetown University. But don't let his age fool you. Haskell has accomplished more in his two short years in Hartford, than some of his older colleagues. And for this Westport native, there's still much more to be done.
"I'm personally invested in building the next 20 years of Connecticut's future," Haskell said. "We can't keep kicking the can down the road when it comes to our state pensions. We need to make immediate, transformative changes to our energy system. We need to build an economy that is affordable and inclusive, because it is my generation that is being priced out of this state."
His accomplishments include expanding college access and a new tax credit to help pay off student loan debt. Haskell helped establish a partnership with AT&T to provide high-speed internet access on Metro-North trains, and his support for the CT 2030 Plan proposes "to shave 15-20 minutes off the commute from New Haven to Grand Central," modernizing roads, railroads and airports.
Haskell's priorities remain steadfast: fiscal stability, reducing the size of government, holding Eversource accountable, gun violence prevention, transportation investments and acting as "a firewall against the Trump administration."
"We're facing really significant challenges in Connecticut…thousands of people on unemployment, students learning remotely, small businesses struggling to stay afloat," Haskell said." Dealing with these challenges requires big ideas, bipartisan cooperation and a belief in the future of our state."
Haskell, endorsed by CT Realtors, Planned Parenthood, CT Against Gun Violence and numerous others,  is being challenged by Republican candidate Kim Healy in the 26th district, which covers  Redding, Ridgefield, Wilton and parts of Bethel, New Canaan, Weston and Westport.
For Thomas, 51, this is her second go-around for the 143rd district seat, which represents parts of Wilton, Westport and Norwalk. She narrowly lost in 2018 by less than 320 votes.
The Norwalk resident threw her hat in the ring again for many reasons.
"I decided to run to remind Hartford that our problems require urgent solutions because we cannot continue to move at a glacial pace," Thomas said. "Now, in the midst of the pandemic and the economic hardship it has wrought, our state has new problems to solve…stimulating an economic recovery, taking a comprehensive look at tax codes and budgets with new eyes and governing with an eye towards future opportunities. My goal for the 143rd district is simple – to fight for the values that keep our community safe, productive and thriving." Founder of Stetwin Consulting, which focuses on fundraising efforts for nonprofits, Thomas boasts a unique skill set she'll put to work in Hartford.
"Working in nonprofits has taught me how to solve intractable problems, on budget, with evidence-based data," she said. "As a fundraising and strategy consultant, I have been called in to implement creative solutions when other plans have failed. As a small business owner, I know there are no shortcuts for hard work."
The New York University graduate is committed to bringing more federal dollars here. She supports increasing voter access, gun safety, affordable college and healthcare, including a public option and cap on prescription drug costs.
"Taxpayers are at the breaking point," she said. "We have to invest in our families and the issues that will help them be successful here…from access to affordable health care to climate change mitigation to reliable transportation infrastructure."
Thomas is being challenged by Republican candidate Patrizia Zucaro.
Among their many common goals, Haskell and Thomas support local control of local matters. They're opposed to school regionalization, with Haskell the first legislator to publicly oppose it in 2019, and a driving force in preventing those bills from making it to a vote in Hartford. They vowed to prevent initiatives that'd remove local planning and zoning committees from controlling essential zoning matters.
For more information, visit https://www.willhaskell.com/ and https://votestephaniethomas.com/
Paid for by Wilton Democratic Town Committee, Jane Rinard Treasurer
www.wiltondems.org | P.O. Box 103, Wilton, CT 06897
Approved by state Sen. Will Haskell and state Rep. candidate Stephanie Thomas